This post has been compensated by Collective Bias, Inc. and AcneFree. All opinions are mine alone. #AcneFreeSummer #CollectiveBias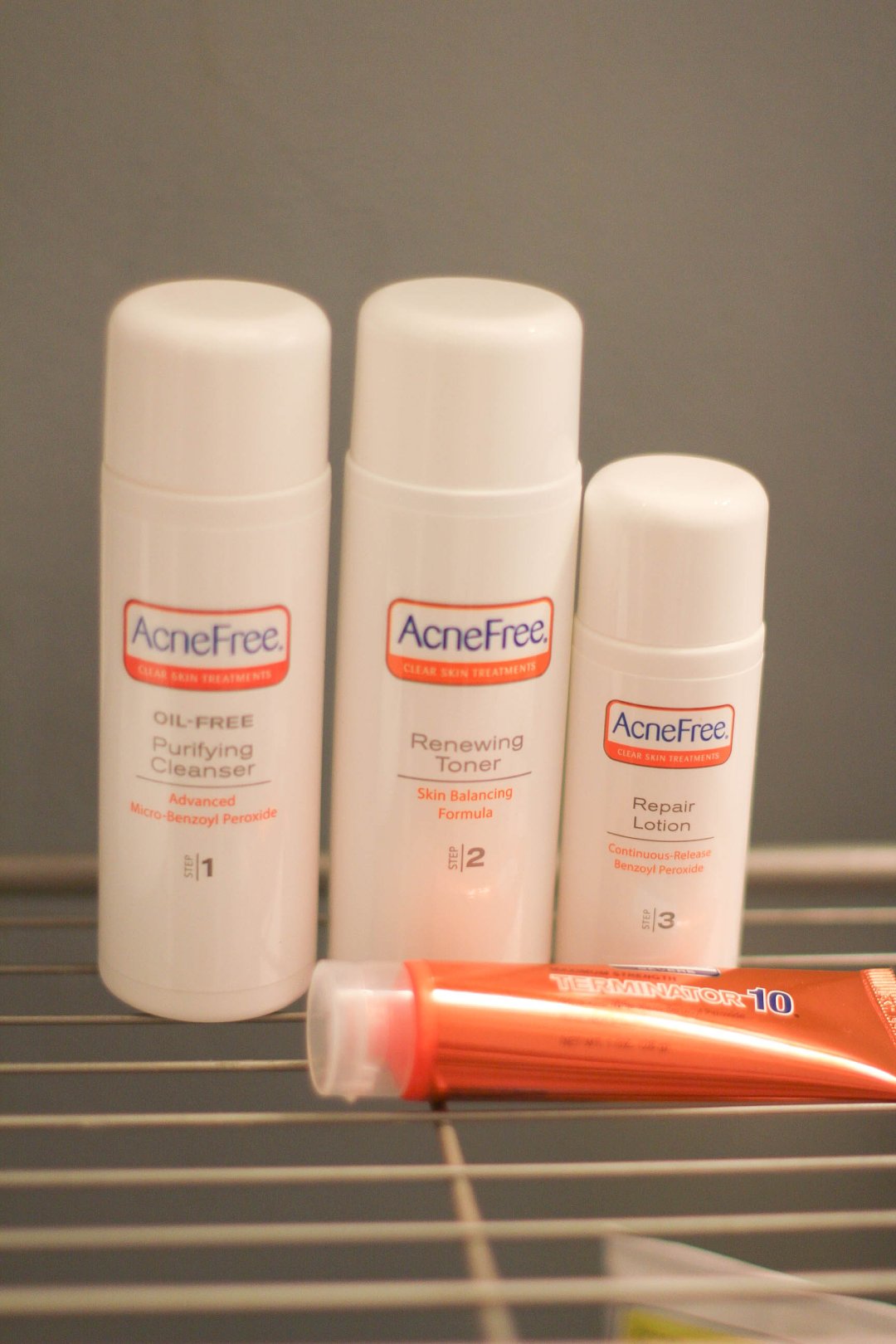 If you hover over the image above, you'll get the direct link to my new favorite skin care products!
I've always had clear skin – I can probably count on one hand the times in high school or college when I had a major breakout and I was embarrassed. That's how little acne and breakouts have affected me.
After having Royce, EVERYTHING is different with my body and my skin is one of the biggest. A lot of people thought I was having a girl (including myself) because my skin was breaking out and there is an old wives tale that girls take the beauty away from the mother!
This summer, I've noticed my skin to continue to change and I've had more breakouts than normal. As you can probably see in the photos above, I have little "heat bumps" along my jawline and cheeks. Last week I also had a random pimple come and of course I was so bothered by it that I messed with it. After learning about AcneFree products at Walgreens (also carried at Walmart and Amazon!), specifically their Maximum Strength Terminator cream, I used them and within a few hours I could already tell that it was getting smaller and more noticeable – probably because it's the most powerful benzoyl peroxide acne medication available without a prescription.
The other product that I love is the 24 Hour Acne Clearing System. AcneFree is the only brand that makes acne clearing systems formulated with Advanced Micro-Benzoyl Peroxide. Micro-sized benzoyl peroxide is designed to work faster and penetrate deeper into pores, which is probably why it works SO well. I kid you not, I used the system twice a day (as directed) for few days and sent my friend a snapchat and he replies, "Your skin looks really clear, you don't need a filter!"
Whether you're just now starting a skin care regimen or looking for a simpler one, AcneFree is extremely simple to follow. The steps are listed right on the bottle. You start by using the oil-free purifying cleanser which helps exfoliate and remove pore-clogging dirt and excess oil on your face. Step 2 is the renewing toner – it helps balance the skin tone and control oil. I used to never use toners but can totally see why this is a must. I love this one because it also has vitamins, aloe, chamomile, and witch hazel and my mother has always SWORN by witch hazel for your skin! Last is the repair lotion which helps lock the products into your skin and continues the acne clearing! This has really helped keep my skin moisturized. Most acne products make my skin feel very dry and tight so I especially love having this lotion as the final step!
These products have truly helped me wear less makeup this summer and feel more carefree! I haven't worn makeup for the past week when going to work because I'm not as self conscious about my skin. Even if you love makeup and wear it every day, having a clear foundation is key because it will help you simplify your look! Most skin care I've heard good things about also don't fit my budget and AcneFree is affordable AND easily accessible. If you'd like to learn more about the brand, follow them on Facebook and Twitter! If you can't wait to try these products, click on the very first image in this post to be directly taken to each product I mentioned!